Auto elevation 90 degree printing machine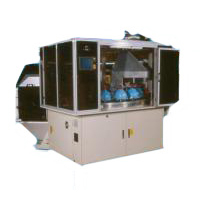 Product ID: WE-9168
◎4 horizontal ink cup pad printers are combined.
◎Germany made 90O ink cup is adopted. The white iron plate with 90O ceramic ink cup is available.
◎Large aluminum tray is 180cm
◎ink cup: 90O, steel plate: 120x250mm
◎Manual filling->manual take out. (helmet)
◎Combined machines can do 1-4 color printing.
◎Hot air device is adopted for the air-dry in multi-color printing procedure, to avoid the ink sticks.
◎IR dry oven increase the dry speed. The reek will be discharged by exhaust fan.
◎CNC fixtures are movable. The L&R/ F&B position can be adjusted. No tool is necessary for changing the angle.
◎Flame treatment makes the ink easy adhere on the printing article.
◎Dust-proof packing to avoid the dust-fall, keep the printing quality.
◎Programmable operation display controls separately machine, linked machines. It also indicates the trouble-shooting, easy operation.
◎The printing speed depends on the size of printing logo or the feeding & unloading. The printing output is 300-600Pcs helmet/Hr..
◎Using special sensor, the machine does not start working unless the operator's hands leave the machine, to protect the safety of operator.
Specifications:
DIMENSION(L*W*H)mm
NET WT